Level 64: Amazon's Three-Pronged Gaming Strategy
A look into Twitch Prime's rebrand, the return of some of streaming's biggest names, and the best way to remove spiders from a multiplayer video
Welcome to The Pause Button — a weekly gaming newsletter curating the best content in the games industry.
To receive this newsletter in your inbox weekly, consider subscribing if you haven't already
---
📜 This Week's Notable News
Earlier this week Amazon, parent company of streaming giant Twitch, announced a rebrand for their Amazon-Prime/Twitch joint offer. The service — previously known as Twitch Prime — will be called Prime Gaming in an effort to more closely align with the rest of Amazon's Prime portfolio. The offer allows Twitch viewers with an Amazon Prime subscription to support to one Twitch creator per month, a service that usually costs $5 and unlocks additional benefits like emotes and chat features. 
On paper, the move is simply a marketing play; changing the name from Twitch Prime to Prime Gaming is consistent with Amazon's other services (Prime Reading and Prime Video). However, digging deeper gives us a small preview into Amazon's gaming strategy. Over the course of last year Twitch has rebranded to a more universal look and feel, open sourced it's video architecture via AWS, and launched an in-site content editing/management platform. Each of the moves fits into Amazon's overall gaming strategy, which you can think of as a sort of cycle: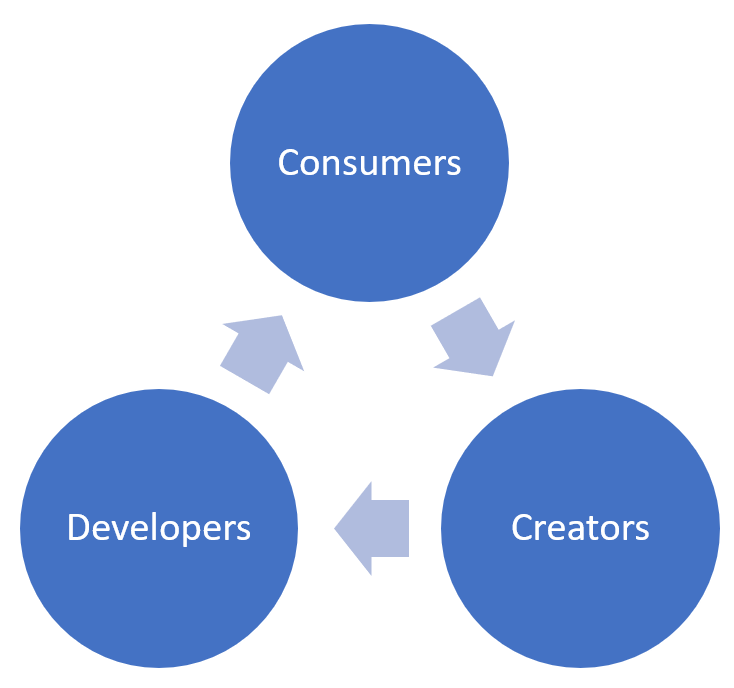 Consumers: Play the Games that the Developers build, and discover new content through their favorite Creators. In turn their support keeps both Creators and Developers in business.

Creators: Look to Developers produce games for them to create content around in order to entertain their fans, the Consumers. Ultimately they are at the mercy of creating content around what Developers build, and what Consumers want to see.

Developers: Use data/platform of the Creators to inform what games to build next, with the hope that their next title with catch the attention of Consumers and the cycle begins anew. If Creators + Consumers can't drive enough sales, the games go out of business, so the Developer needs to build with both groups in mind.
Every move that Twitch makes is in the service of deepening their competitive moat with one of these three groups: Open sourcing software can create a deeper dependency on Amazon's technical services, re-branding the site makes more consumers feel like they belong on Twitch, and developing editing tools on Twitch.tv will ensure that creators develop a heavier reliance on the platform. 
If we examine the Prime Gaming move further, it offers a unique opportunity for all three buckets. Suddenly Twitch has a platform to build a consumer bundle that includes more benefits, besides the previously highlight free subscription. In turn those benefits could provide better ROI for Creators, similarly to how streamers today get 100% of the revenue from a Twitch Prime subscription, as compared to the standard 50/50 split. Expanding the Prime Gaming subscription also gives Developers a direct line to potential users, allowing them to bundle content, games and add-ons to drive unit sales. Add Amazon's own in-house gaming studio, Amazon Games, into the mix and suddenly they've developed an end-to-end platform where they can develop, promote, and capture the attention of all three groups without having to rely on external parties. It'll be interesting to see how Twitch continues to develop as the de-facto cornerstone of Amazon's gaming strategy in the coming years.
---
💡 Industry Content
Apple vs. Games inside Apps: Facebook Gaming's app finally cleared Apple's App Store hurdles by removing playable games from the standalone app. Facebook acquiesced to Apple's demands, but Microsoft, who is launching xCloud on September 15th, hasn't acceded to Apple's stringent policies. Interesting dynamic to follow here. Links: FB Gaming, xCloud
iOS 14: On top of their App Store policies, Apple's iOS 14 will require an opt-in IDFA — a personal identifier on each Iphone to track user behavior —for its apps, citing privacy concerns. This has huge implications for smaller mobile games studios (and other companies like Facebook — The Deconstructor of Fun makes the case for the consolidation of smaller studios into larger ones) that leverage Facebook for user acquisition and advertisements for monetization. Link
China's Potential Streaming Merger: Gaming giant Tencent is hoping to merge Douyu and Huya, China's two largest streaming platforms, expanding their reach in esports spectatorship. Tencent already owns majority stakes in both platforms (worth ~$6B in value), as well as ownership in other competitors like Bilibili and Kuaishou. The deal isn't set in stone, but there shouldn't be any blockers. Link 
A Gaming Ban in the US? In last week's issue, we discussed the potential implications a TikTok ban may have on the gaming industry. Well, less than 24 hours after the issue went live, the U.S. government announced sanctions targeting many major chinese corporations, most notably gaming giant Tencent. The L.A. Times has reported that these sanctions will only impact WeChat, Tencent's chat platform, but given the company's incredibly integrated nature, it's not hard to imagine a world where gaming isn't pulled in.  Link
How to Shift Amazon's Mindset toward Games: The title of the article says it all: "Amazon is good at so many things. So why are they failing at making games?" As the author notes, part of it is that Amazon needs to fundamentally change its mindset from retail for the masses to creative entrepreneurship, giving studios the freedom to create rather than harp them on incremental improvements. Link
---
🎮 Fun & Games
Halo, Coming in 2021: Xbox's keystone next-gen title, Halo Infinite, is now delayed and won't ship in time for the Xbox Series X console's launch. While Game Pass still has plenty of titles for consumers, the news will undoubtedly impact the console's sales this fall. Link
The Analogue Pocket: A retro games aficionado company called Analogue recently created The Pocket, a modern take on the Gameboy era of handheld games. The platform is compatible with 2780+ Gameboy, Gameboy Advance, and Gameboy Color games (with additional add-ons for three more old school systems). We wanted to get one, but the pre-orders sold out in <10 minutes… Deja Vu to the 100T merch drop. Link
The Returns Begin: Shroud returned to Twitch to the tune of 517k concurrent viewers. Dr. Disrespect started streaming on Youtube (without official partnership) and accumulated 500k concurrent viewers. An interesting storyline here is that each hyped up their launch with blank screens to generate concurrent viewership prior to their official return streams. Link 
Team Liquid (Plus): Team Liquid announced this week that they're launching a rewards program, dubbed Liquid+. The platform promises fans a one-stop shop for everything Team Liquid, including dedicated tournaments, behind the scenes content, and up-to-date news on the team. It's an interesting concept that takes the dedication you see on platforms like Discord and Twitter a step further. But how many teams can launch these programs before consumers get overwhelmed, and can Liquid produce enough content to keep even the most dedicated fans coming back? Link
---
😎 Other Cool Reads
Red Skies and Devastation: Influenced by the Australian Bushfires and COVID, Umarangi Generation is a Maori-inspired cyberpunk ode to our rapidly shifting and human-exploited conceptions of nature. You're a photographer documenting the tragic world around you. A third party observer. Someone trying to make money in a hellish landscape. Link
Let's Hop on a GTA Call?: Zoom fatigue is real. Some people are turning to GTA V, Minecraft and TFT to do their meetings and get more of a sense for people's personalities. We want to try this. Link
Video Games, Now Phobia Free: Recently launched multiplayer title Grounded shrinks players and drops them into the great outdoors, pitting them against giant versions of your least favorite bugs. But when players launch the game, they're greeted with a single question "Are you scared of spiders?" In this article from Vice, developer Obsidian Entertainment explores how they built accessibility features to combat one of the world's most common fears without having players miss out on any of the action. Link
Spirit Bonds: Riot Games now has an anime, Spirit Bonds. How did a video game company also get to be an anime? The team is releasing rare insight into their brainstorm and design process. Link
---
📊 By The Numbers
Since launching on August 4th, multiplayer smash hit Fall Guys has sold 2M copies and amassed 23M combined hours watched on Twitch. Not bad for a single week.  Link
Earnings Reports for gaming are far exceeding expectations Link
Take-Two Interactive: +136% Net Bookings

Activision Blizzard: +70% Net Bookings

 Zynga +38% YoY Q2 Bookings

Nintendo 166% YoY Increase in Console Sales
---
😍 Our Current Favorites 
Fawzi (@fawzitani) 
I finally got my copy of A Profound Waste of Time (APWOT) and I cannot recommend it enough. In the foreword, editor Capsian Whistler resonates deeply with why we started The Pause Button:
However there's a reason the subtitle to this publication is 'Inspired by Videogames' and not 'Livid about Videogames'. Anger can be an incredibly valuable and healthy thing, especially when identifying and fighting injustice and shard corporate practices, but when the overwhelming dialogue around games is so focused on one end of the spectrum, being reflective and open minded becomes, ironically, a kind of rebellion.
A truly masterful piece in New Age Journalism, if you're into design and writing by acclaimed game developers, this is a must. Link 
Max (@MaxLowenthal)
I spent some time this week looking into Guilded, a Discord competitor focused on deep integrations for hardcore gaming communities. It's an interesting prospect; where Discord has opted for appealing to small intimate communities, Guilded has optimized for gaming specifically with features like calendars and events. I have a number of strong reservations that this model will be able to overcome the monetization problem that has plagued Discord, but competition in the gaming services space is always fun to watch. Link
---
P.S. Like The Pause Button?
You can help make it even better by: